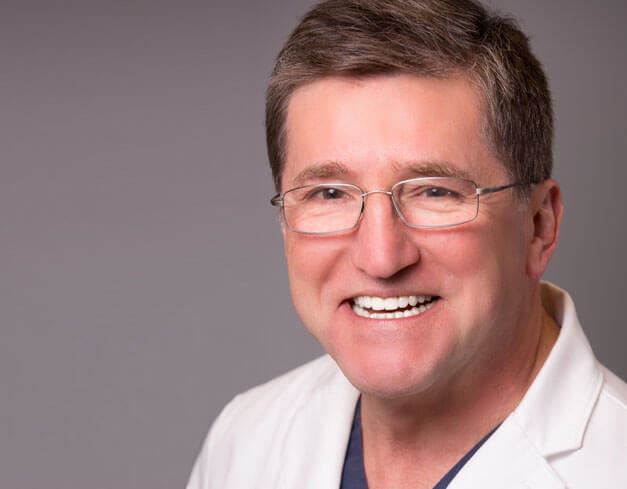 Meet Dr. Marosan

@headingTag>
Board-certified Seattle area plastic surgeon, Dr. George Marosan, believes that treatment is more than just cosmetic, but medical in nature, which requires expertise. This expertise is what patients will get when they visit Dr. Marosan at Bellevue Plastic Surgeons for procedures for the face, body, breast and skin. This drive for quality plastic surgery results leads Dr. Marosan to stay on the cutting-edge of medical breakthroughs, which he uses to perfect his own techniques. Dr. Marosan always balances beautiful results with a patient's welfare and safety to ensure the best outcome possible.
Born in Romania to Hungarian parents, Dr. Marosan and his family escaped Ceausescu's dictatorial regime. For the next 9 months, the family traveled from Israel to a Greek refugee camp and finally arrived in Buffalo, NY when Dr. Marosan was 15. The doctor was enrolled in high school three days later without a grasp of the English language, but he worked diligently and realized his dream of becoming a surgeon, as did his younger brother. Giving back to the country that gave him so much, Dr. Marosan joined the Air Force and resigned as a Lt. Colonel before starting his practice in Bellevue.
Through his unique experiences, background and passion for plastic surgery, it's no wonder that Dr. Marosan has been consistently voted as one of the Top Surgeons in America.
Specialties and Skills

@headingTag>
Dr. Marosan has a special interest in providing body sculpting for male and female patients and utilizes 4D and advanced techniques for beautiful results. Dr. Marosan specializes in VASER Hi Definition liposuction as he was the first doctor to bring this technique to the Northwest. Dr. Marosan's other specialties are Brazilian butt lifts, tummy tucks, and breast surgery, such as breast augmentation, breast lifts, and congenital deformities, as he's completed over 1000 breast surgeries through the years. With labiaplasty, Dr. Marosan has done the most vaginal rejuvenation of any doctor in the Seattle area.
Over time, Dr. Marosan has become a revision expert, where he corrects other doctors' unsatisfactory results to produce stunning transformations. In addition, Dr. Marosan offers eyelid surgery, brow lifts, chin augmentation and lip enhancement. He also offers a variety of injectables and facial rejuvenation treatments such as Juvéderm, BOTOX®, Dysport and laser treatments.
Education and Training

@headingTag>
Dr. Marosan completed his medical training and earned his medical degree from Rush Medical College in Chicago. After he completed his 2-year General Surgery residency, Dr. Marosan joined the Air Force to give back to the country that had given him so much. He then went on to complete a 7-year residency in General and Plastic Surgery. To further hone his skills, Dr. Marosan trained in Bogota, Colombia with the world-renowned Dr. Hoyos in various body sculpting procedures. Furthering his knowledge, Dr. Marosan trained in Miami with the esteemed Dr. Khouri in various breast surgery techniques.
Industry Leader

@headingTag>
As an industry leader, Dr. Marosan was actually the first plastic surgeon to bring VASER Hi Definition liposuction, tummy tucks and various 4D and advanced body sculpting methods to the Pacific Northwest. His techniques have resulted in safer, more consistent results, as well as countless satisfied patients.
Special Achievements

@headingTag>
Throughout his celebrated career, Dr. Marosan has been honored with countless awards. He's a lifetime member of Strathmore's Who's Who Worldwide, a database of international leaders and professionals. Dr. Marosan has been recognized as one of America's Best Cosmetic Doctors in the Consumer Guide by Castle Connolly. In 2011, Dr. Marosan was bestowed with Most Compassionate Doctor by Vitals Patients' Choice. In 2009 and 2011, Dr. Marosan was voted Best of Bellevue by the BBB. The Consumers' Research Council of America listed Dr. Marosan as one of America's Top Plastic Surgeons in 2003 and 2006.
Professional Memberships

@headingTag>
Dr. Marosan is proud to be involved with the following organizations:
The American Society of Plastic Surgeons (ASPS)
The American Society for Aesthetic Plastic Surgery (ASAPS)
The International Society of Aesthetic Plastic Surgeons (ISAPS)
American College of Surgeons (F.A.C.S.), Fellow
American Society for Laser Medicine and Surgery (ASLMS)
Northwest Society of Plastic Surgeons (NWSPS)
Washington Society of Plastic Surgeons (WSPS)
King County Medical Society
Hungarian Medical Association of America (HMAA), Member
AAAASF (American Association of Ambulatory Accreditation of Surgical Facilities), Facility Inspector
Personal and Hobbies

@headingTag>
Out of the office, Dr. Marosan enjoys spending quality time with his family. He resides in Newcastle with his wife, Boglarka, or Bogi, and his younger son, Nandor, a student at Bellevue Christian School. Dr. Marosan enjoys traveling with his family, both throughout the country and abroad. The Marosan family also enjoys staying active with friends through outdoor activities like biking and hiking. A soccer buff, Dr. Marosan plays for the Greater Seattle Soccer League.